Cognitive testing of the Colon Cancer Screening Behaviours Survey with South Asian immigrants in Canada
Journal of Patient-Reported Outcomes
2017
1:7
Received: 13 March 2017
Accepted: 3 August 2017
Published: 19 October 2017
Abstract
Background
The purpose of this study was to cognitively test the Urdu and English language versions of a survey to assess colon cancer screening behaviours among South Asian immigrants in Canada.
Methods
The Colon Cancer Screening Behaviours Survey was cross-culturally translated and adapted into the Urdu language followed by cognitive interviews using an evidence-informed cross-cultural cognitive interview framework. The cognitive interviews were conducted in English and Urdu in three rounds; a preliminary round, round one, and round two. Two bilingual cognitive interviewers administered interviews in person with South Asian immigrants in Hamilton, Ontario. Scripted verbal and emergent probe techniques were used concurrently with survey item administration.
Results
A total of 30 South Asian immigrant participants, 12 English speaking and 18 Urdu speaking completed a cognitive interview. These groups were similar in age, gender, and years of residence in Canada. General design, culture, gender, and translation issues were identified. Revisions were made to improve the survey and the interview protocol was modified for future data collection.
Conclusions
The cross-cultural cognitive interview framework led to a systematic and rigorous process of pre-testing and revising the Colon Cancer Screening Behaviours Survey, which may be used to gain insights on beliefs, benefits, facilitators and barriers to colon cancer screening among South Asian immigrants. The study methods and experience may also inform the cross-cultural translation and adaptation and cognitive testing of other survey tools.
Background
In order to understand colorectal cancer (CRC) and screening behaviours among South Asian (SA) populations, an understanding about socio-cultural context, facilitators and barriers to participation from their perspective is required. Knowledge gained may then be used to inform selection of relevant measures to assess the factors that influence CRC screening.
Prior studies were conducted by our team to inform the development of a survey targeted for use with SA immigrant populations to assess beliefs, attitudes, facilitators and barriers to CRC screening [1, 2]. A scoping study enhanced understanding of factors that influenced cancer screening among SA immigrants residing in the United Kingdom (UK), the United States of America (USA), and Canada [1]. This initial work provided knowledge on socio-cultural context including values of family, holistic views of health care, beliefs related to risk perception, low knowledge, and barriers to screening. However, the scoping study was limited in terms of understanding beliefs, barriers, and gender-related factors that influence CRC screening among both men and women [1]. This gap was addressed by conducting a focus group study to elicit the perspectives of SA immigrants to gain a more focused understanding of CRC and screening perceptions within the Canadian context [2]. The findings informed on socio-cultural beliefs and attitudes related to CRC and screening, as well as provided an enhanced understanding of sources of knowledge and awareness from social networks. Additionally, the factors that supported access to CRC screening uptake were uncovered along with key strategies to promote CRC screening in SA communities. In summary, both studies were essential to inform the development of a survey to assess CRC screening behaviours among SA immigrants.
Survey development followed a rigorous process [3] beginning with the identification and charting of concepts extracted from prior studies [1, 2]. Key concepts were then defined using behavioural concepts from the Health Belief Model [4] and the Theory of Planned Behaviour [5]. A literature review of articles reporting on pre-existing surveys containing measures that aligned with key concepts and conceptual definitions were selected and critically appraised for conceptual congruence using the Evaluating the Measurement of Patient-Reported Outcomes tool [6]. Consultation with public health and measurement experts enabled the selection of candidate measures and decision-making around additions and modifications required within the survey. This initial phase of survey development was important for survey construction as it followed a rigorous process.
The Colon Cancer Screening Behaviours Survey consists of 84 items that assess: (1) CRC screening practices and behavioural outcomes; (2) six scales that measure
perceived susceptibility
,
perceived severity
,
perceived benefits
,
perceived barriers
,
self-efficacy
, and
subjective norm
from existing instruments; and, (3) relevant socio-demographics for SA populations [
3
]. See Table
1
for the Summary of Measures in the survey that includes details on domains and items, pre-existing measures, and additions from the literature. A total of five items were researcher developed. The purpose of the survey is to describe or predict colon cancer screening beliefs, attitudes, facilitators, and barriers that influence intention and uptake among SA immigrants in Ontario, Canada. As developed, the survey was intended for in-person or telephone interviewer-led administration; although, it may be used for self-administration in educated populations. The survey was translated into Urdu to be accessible to non-English language speaking individuals. At this stage of pre-testing, we did not feel it was necessary to obtain permission from the authors of pre-existing measures included in the survey as we did not know if further modifications would be required until after the study was completed. The intent was to contact authors after this study to seek permission upon pilot testing of the survey.
Table 1
Summary of Measures in the Survey
Domains

Pre-existing measures

Additions

Colon cancer screening practices – Total: 9 Items

Heard, had, and intention for colon cancer screening

Vernon et al. [37]

3 items added

 • 2 items drawn from prior literature [43]

 • 1 item - researcher developed

Colon cancer screening beliefs and attitudes - Total: 60 Items

Perceived susceptibility & Perceived severity

Perceived susceptibility and perceived severity

Perceived susceptibility

Ozsoy et al. [31] used Jacobs [44] measures for colorectal cancer screening that were initially drawn from

Champion's [45] breast cancer screening measures

 •  1 item was added [46]

Perceived severity

Perceived benefits & Perceived barriers

Perceived benefits and perceived barriers

Perceived benefits

Rawl et al. [49] colorectal cancer screening measures were drawn from Champion's [50] breast cancer screening measures

 • 2 items: 1 item for the home stool test and colonoscopy [51]

Perceived barriers

Perceived self-efficacy & Subjective norm

Perceived self-efficacy and subjective norm

Perceived self-efficacy

Flight et al. [53] used measures from Tiro et al. [54] and Vernon et al. [55]

 • 1 item was added [56]

Subjective norm

 • 1 item - researcher developed [1]

Socio-demographics – Total 15 items

Socio-contextual items relevant to SA immigrants

4 items - researcher developed [1]
Current standards of linguistic translation [7] of a survey alone may be insufficient to achieve relevance to target respondents [8, 9]. For new immigrants, attention must be paid to achieving conceptual equivalence while being sensitive to socio-cultural context. Although this may be addressed in good cross-cultural translation and adaptation, it should be verified using cognitive interviews [10]. Pre-testing with cognitive interviews may uncover issues with comprehension of questions and responses, design layout, or translation [10]. This was the case for Pasick et al. [11] in their study assessing breast and cervical cancer screening among diverse ethnic populations in the USA, where conceptual, translation and contextual issues arose.
The purpose of this study was to conduct cognitive interviews of the English and Urdu versions of the Colon Cancer Behaviours Screening Survey with SA immigrants. Our objective was to assess the English and Urdu language versions of the survey for comprehension through probing, to interpret qualitative data and key themes, and to identify problems with questions and responses while comparing issues that emerged among each group, and to make revisions.
Methods
Cross-cultural translation and adaptation
The Colon Cancer Screening Behaviour Survey was cross-culturally translated and adapted into the Urdu language using current best practices by two bilingual SA immigrants, and involved: (1) two independent forward translations; (2) a meeting to discuss the synthesis report of the two forward translations; and (3) an expert committee review meeting ([
8
,
9
], See Fig.
1
). The decision to forgo back-translation, a common second step in cross-cultural translation and adaptation was made because of the literature reporting that expert committee review produces more accurate cross-cultural translation and adaptation (i.e. face validity and conceptual relevance) when compared to back-translation [
9
] Epstein et al. [
9
] described that back translators could return the survey to the original wording skipping over incorrect terms in the forward translation, and thus provide unwarranted confidence in the translated version. The committee review provided an opportunity to involve two other individuals with expertise working with the SA community, and who had greater understanding of medical terms and how they may be interpreted or understood by the target population.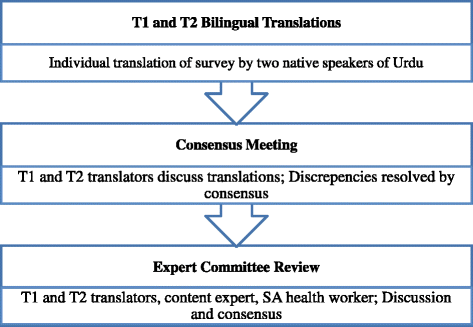 The first step required two translations (T1 and T2) from two individual translators. These individuals were bilingual, emigrated from the Indian sub-continent, and were native speakers of Urdu; one had an undergraduate degree and lay knowledge of the topic, and another had a health science degree and background. Documentation was provided on each translation. In step two, a synthesis of the two independent translations (T1 and T2) was created and documented. Discrepancies were resolved by consensus through the process of returning to the synthesized documentation report, and discussing the issue among the two translators. The source and target versions of the survey were examined using the following criteria: (a) semantic equivalence, the meaning ascribed to words used by SA populations; (b) idiomatic equivalence, the idioms or colloquialisms used by the SA population; (c) experiential equivalence, the context of the activity, CRC screening; and (d) conceptual equivalence, the meaning of concepts examined and defined within the culture [8, 9].
The next step involved an expert committee review of the combined translations (T1 and T2) synthesis report of the survey including written documentation that outlined decision-making processes that took place during translation [9]. To avert problems related to accurate linguistic and cultural translations of key medical terms during expert committee review, a bilingual clinical expert and a content expert in cancer screening and public health informed this final step [12]. Therefore, the expert committee was comprised of the two individual translators, a bilingual SA clinical expert, and a content expert. The expert committee played a vital role in the final step of cross-cultural translation and adaptation before pre-testing the survey. This was accomplished through discussion of each individual's interpretation, and reaching a consensus on any issues or discrepancies. To log results of cross-cultural translations, three standardized forms were used, one for each step [13].
Cognitive interviews
The survey was then pre-tested using cognitive interviews. Cognitive interviewing has its foundations in social and cognitive psychology and focuses on an individual's cognitive processing of questions and responses [14]. Testing the function of a survey using cognitive interview methods is an important step in evaluating a newly developed survey questionnaire [15]. The overall aims are to reduce systematic error, and improve the functioning of the measures in the target culture [16]. The Cognitive Interviewing Reporting Framework provides guidelines for the reporting of studies involving cognitive testing, and is used in this paper [17].
Discussion
The development of the Colon Cancer Screening Behaviours Survey involved a multi-stage process that valued the perspectives of the SA population, was informed by findings from prior studies [1, 2], and incorporated pre-existing measures that required additions and modifications [3]. This study adds to the literature by cognitively pre-testing an Urdu and English language version of the Colon Cancer Screening Behaviours Survey for future field-testing, research, and use among SA populations.
Cross-cultural translation and adaptation of measures into another language have been undertaken in a number of studies [31–33]; however, no prior studies have been found that cross-culturally translated and adapted a colon cancer survey into the Urdu language. In one study [34], a CRC screening questionnaire was translated into Hindi and Gujarati using a bilingual-bicultural committee translation approach derived from translation methods proposed by Harkness and Mohler [35]. Likewise, in another study [36], a CRC screening survey assessed behaviours among English speaking SA's in New York/New Jersey, but no information was provided on whether it was culturally adapted for this SA population. The use of cross-cultural cognitive interviewing [10] in this study enhanced rigor, and provided details to guide future scholarly work.
In our study, cross-cultural equivalence was assessed by determining if interpretations varied by two distinct language groups (English and Urdu). Literature reporting on pre-testing of colon cancer screening measures that used standard cognitive interviews among diverse samples are available [37, 38], although, comprehensive details of the processes are not always provided [39]. In studies that have conducted cognitive interviews for CRC screening measures, the populations included veterans, African American, Native American, Asian and White samples from the USA, consisting of 18–36 participants, and methods used retrospective probing [37, 38]. Retrospective probing has limitations because participants may not recall what they were thinking when they responded to a specific item earlier when the survey question was initially administered and this could lead to fabricating a probe response [21]. Cross-cultural cognitive interviewing has been undertaken to explore other health related topics (i.e. work life, dietary, general health survey) among different ethno-cultural groups and provided substantial details of the process [20, 26, 40].
Scripted verbal probes were effective in the cognitive interviews with Urdu and English language speaking SA immigrants. Participants were enthusiastic and responded to verbal probes that provoked follow up to their responses. Participants provided rationale for their responses, or comments that took on aspects of think-aloud techniques [16]. This was a valuable finding for those conducting cross-cultural cognitive testing of survey measures with SA populations.
The nature of general design issues were simple to correct and were equally evident in both the English and Urdu language surveys. Culture specific issues included culturally sensitive wording. English language speaking participants in round one who were long term residents of Canada, preferred not to discuss colon cancer and screening with their family compared to Urdu language speaking participants. This revealed the diversity of individual beliefs and practices in the cognitive interview sample. Furthermore, this finding aligns with prior studies, where some SA immigrants did not believe it was appropriate to discuss cancer or screening with family or friends [1], while others believed that family was supportive in health decisions including CRC screening [1, 2]. This highlights the need to recognize diversity and assess individual preferences among members of diverse ethno-cultural groups. The subjective norm measure aims to distinguish the influence of family in decisions around colon cancer screening.
A gender specific issue also arose during round one regarding gender preferences of one's family physician. Prior research uncovered preferences for a female physician among female SA immigrants [1, 2]. While it was not the intent of the developers to exclude the male perspective, it was beneficial that cognitive interviews uncovered this issue. Eliciting information about SA male participant's preference is important in that it may affect health seeking and colon cancer screening behaviours, and presents an opportunity for further exploration through research.
The limited translation issues that arose during cognitive interviews may have resulted from the evidence-based cross-cultural translation and adaptation approach used in this study. Any issues that arose during the three stage process of cross-cultural translation and adaptation were dealt with at each stage through revisions.
The cognitive interviews were conducted face-to-face in the field. Participants were interviewed in their home or community, which is preferable to a cognitive lab because it emulates real survey administration practices that are likely to take place when the survey is pilot tested [23]. Cognitive interviews that deal with sensitive topics are best conducted in the field to facilitate more comfort, accuracy, and encourage more truthful responses [21]. The cognitive interview process proved to be successful among SA immigrants who completed the Urdu and English language version of the survey. This supports findings from one review that most studies employing scripted verbal and emergent probing were effective across diverse language and cultural groups [10].
The use of a joint collaborative analytic process was considered to be a favourable method in comparing results within a group and the decision-making process involved in assessing the function of each item individually for each interview [10]. This strategy was beneficial due to the limited experience of interviewers as it created a feedback loop and continued communication. During interviews, the lead researcher was in constant communication with interviewers to provide support, to share information, and to assess if there were any issues. There were numerous meetings held for training and joint collaborative analysis (n = 6). The goal was to work together for the purpose of further processing of data, interpretation, and aggregation [27]. Depending on the experience of interviewers, the continuing support by the lead researcher may prove more beneficial in detection of issues for those conducting research with novice cognitive interviewers [10].
Limitations
Our decision to stop at 30 cognitive interviews may be seen as a limitation, however, we believe that the final survey is improved because of the rigorous cross-cultural translation and adaptation and cognitive interviews because major problems were addressed. It is now ready for pilot testing with a larger sample so that measures contained within the survey may be psychometrically tested.
Notes were taken during and after the interview with no audio or video recording, which are additional methods recommended for cognitive testing [16]. The audio or video recording may have uncovered more problematic issues than handwritten notes alone. However, seeking permission to audio or video tape the interviews was not culturally appropriate because interviews were held in participant's homes and communities.
Another limitation was the interviewers' lack of experience with cognitive interviewing despite their fluency in both languages. However, this approach is acceptable in keeping with Willis' [10] recommendations as long as the interviewer has access to scripted verbal probes and receives adequate training.
A fourth limitation was related to participant recruitment for cognitive interviews as there were 13% of participants who had been in Canada for less than 10 years. While an attempt was made to recruit participants who were recent immigrants, there were challenges due to lack of familiarity with the topic and comfort with the interviewer. A greater proportion of newcomer immigrants may have uncovered problems with the Urdu language survey as new immigrants may not be as familiar with preventive health practices such as cancer screening [41]. This may relate to socio-cultural adaptation in the new society. Those settled for less time may be in the process of continuing to develop socio-cultural knowledge and skills related to the adoption of preventive health practices [42]. A lack of familiarity with the term "screening" may have also been related to level of acculturation [37].
Conclusions
In this study, we cross culturally translated and adapted the Colon Cancer Screening Behaviours Survey, and pre-tested it among Urdu and English speaking SA immigrants in Ontario, Canada. The use of rigorous methods for both cross-cultural translation and adaptation and cognitive testing were successful in assessing the conceptual basis of previously developed measures that were adapted, and modified among this diverse population. Revisions to the survey improved it, and now it is ready for field testing and for assessment of psychometric properties of key measures among the SA population.
Declarations
Authors' contributions
JC conceived of the study, and coordinated the design, planning, interviewer training, data collection process, data analysis, writing up of findings, and drafted the manuscript. FA contributed to the design and data analysis of the study, and the manuscript. AB contributed to the the design and data analysis of the study, and the manuscript. DB contributed to the design and data analysis of the study, and the manuscript. All authors read and approved the final manuscript.
Ethics approval and consent to participate
All procedures performed in studies involving human participants were in accordance with the ethical standards of the institutional and/or national research committee and with the 1964 Helsinki declaration and its later amendments or comparable ethical standards. Two university research ethics boards gave approval to conduct this research: (1) The University of Toronto Research Ethics Board (http://www.research.utoronto.ca/about/boards-and-committees/research-ethics-boards-reb/); and (2) Brock University Research Ethics Board (https://brocku.ca/research-at-brock/office-of-research-services/research-ethics-office/). All authors were affiliated with the University of Toronto. Author A as the lead, was required to obtain ethics approval from the University of Toronto and Brock University. This article does not contain any studies with animals performed by any of the authors.
Consent for publication
Informed consent was obtained from all individual participants for participation in the study, and to publish findings for this study.
Competing interests
Author A declares that she has no competing interests, financial or non-financial. Author B declares that she no competing interests, financial or non-financial. Author C declares no competing interests, financial or non-financial, and provides the following disclaimer: "This article was conducted as an outside activity. The views expressed are those of the author and no official endorsement by the AHRQ, the U.S. Department of HHS, or the Federal government is intended or inferred." Author D declares no competing interests, financial or non-financial.
Publisher's Note
Springer Nature remains neutral with regard to jurisdictional claims in published maps and institutional affiliations.
Open AccessThis article is distributed under the terms of the Creative Commons Attribution 4.0 International License (http://creativecommons.org/licenses/by/4.0/), which permits unrestricted use, distribution, and reproduction in any medium, provided you give appropriate credit to the original author(s) and the source, provide a link to the Creative Commons license, and indicate if changes were made.
Authors' Affiliations
(1)
Faculty of Applied Health Sciences, Department of Nursing, Brock University, St. Catharines, Canada
(2)
School of Health Policy and Management, Faculty of Health, York University, Toronto, Canada
(3)
Agency for Health Care Research and Quality, Washington, D.C., USA
(4)
University of Toronto, Toronto, Canada
(5)
Musculoskeletal Health and Outcomes Research, Li Ka Shing Knowledge Institute, St. Michael's Hospital, Toronto, Canada
(6)
Measurement Stream, Institute for Work & Health, Toronto, Canada
(7)
Department of Occupational Science and Occupational Therapy, Rehabilitation Sciences Institute, and the Institute of Health Policy, Management and Evaluation, University of Toronto, Toronto, Canada